Girl Scout Membership Splash - WOW! Day
Saturday, September 27, 2014 10:00 am - 2:00 pm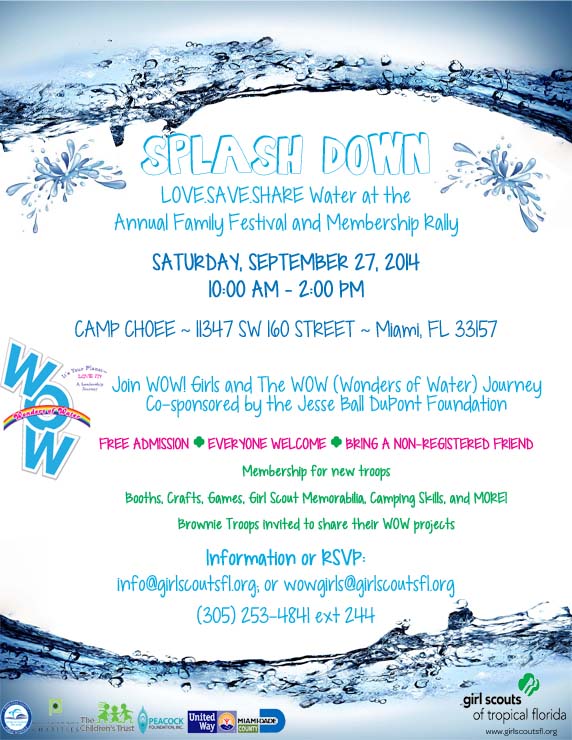 Location:
Camp Choee - 11347 SW 160th St 33157
Description:
This years Rally Theme is WOW! (Wonders of Water). So put on your thinking caps and start inviting everyone you know to come to the Membership Splash and host a booth with a water activity. Click to register your Troop Activity below!

Check out some of our community partners who will be showcased at the event:

A Kids Party Express - Allegiance Gojo Ryu Academy - Au Pair in America - American Red Cross - Bellydancing by Shayna
Build-a-Bear - Colgate Bus - Community Blood Centers - Cool de Sac - Deering Estate - Friends of the Everglades - Home Depot Intellaclaim Public Adjusters - Jump A Roos - Jungle Island - Kids First by Dr. Swartz - Lincoln Marti Campore - Miami-Dade Community Action & Human Services - Miami-Dade Green - Miami-Dade Derm Extensions - Miami-Dade Police: Pedestrian Safety - National Karate Academy - Natures Natives - Nike - Officer Snook - Old Navy - OMG Storage - One Blood Bus - Patricia and Phillip Frost Museum of Science - PGA Golf Clinic and Events, Inc. - Sierra Club/Earth Save - Terra High School - Tudor Doctor - Zoo Miami
This form stopped accepting submissions on September 27, 2014 10:00 am EDT.