Military Munchies & Mags
Cookies from the Heart
We are proud to support the men and women serving in the United States Military. You can show your support and appreciation all year long through Cookies from the Heart by purchasing Girl Scout Cookies to be sent to our military partners Forgotten Soldiers Outreach, Inc. and the Wounded Warriors Hospital at Fort Sam Houston.

2015 Corporate Sponsors
Cookie Promotions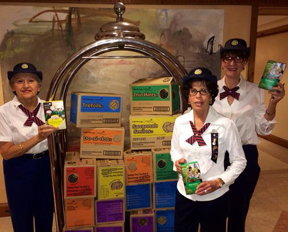 Forms
Scout to Troop
In addition to Girl Scout Cookies, you may show your appreciation and support all year long to our Military Troops by purchasing a $6 nut, candy and/or magazine subscription. The Forgotten Soldiers Outreach, Inc. and our council will deliver your "Read & Treat" to our military personnel.
Order Now!